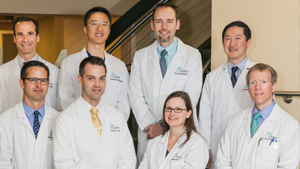 ProOrtho continues to lead in the research and development of musculoskeletal care. Our doctors treat patients not only with high quality medical techniques but also respect and compassion to provide a safe and comfortable environment that promotes a smooth recovery to return to active and healthy lifestyles.
Congratulations to the doctors and assistants for continuing to promote and pledge ProOrtho's mission of providing patients with stellar care and attention.
Camille Clinton, MD – Knee, Elbow, Shoulder, & Sports Medicine
Robin Fuchs, MD – Hip, Knee, Shoulder, & Sports Medicine
Ronald Gregush, MD – Hip, Knee, Shoulder, Ankle, & Sports Medicine
Samuel Koo, MD, MPH – Shoulder
Jeffrey Roh, MD – Spine
Jeff Stickney, MD – Knee, Hip, Shoulder, Foot/Ankle, & Sports Medicine
Addison T. Stone, MD – Spine
Marco Wen, MD – Spine, Interventional Pain Management, Electrodiagnosis
Claudia Kalotay, PA-C – Dr Koo's Physician Assistant
Travis Nease, PA-C – Dr Freeborn's and Dr Pritchett's Physician Assistant
Along with this prestigious recognition, several of ProOrtho's doctors were acknowledged earlier this year in Seattle Magazine's 2015 Top Doctors.
ProOrtho.com offers information about their team of doctors and assistants, their mission, and patient services. ProOrtho has several clinics throughout Washington. Check here for hours and locations for each practice. Call 425.823.4000 for more information.