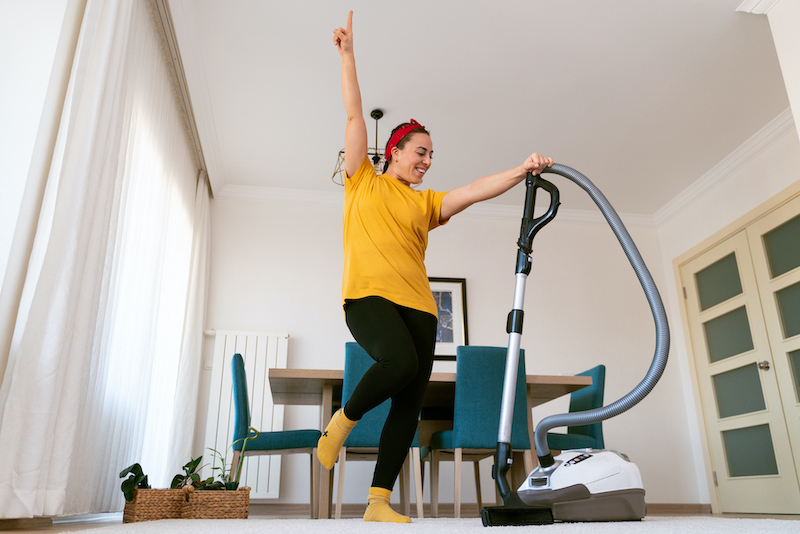 Warmer temps and glimpses of sun are giving us all the spring feels! Many get inspired this time of year to clean up and get organized—give the house a scrub, open up the windows, put your winter wardrobe in storage. As if checking these chores off your to-do list isn't satisfying enough, you can also get in an effective workout at the same time! Cleaning is also a great way to get your steps in. Walking is great exercise, helping you stay in shape and avoid joint problems.
Try these tips to add some extra strength training to your spring-cleaning routine:
Take the stairs: While it may make the most sense to do all your upstairs cleaning before moving on to the first floor, switch things up and try climbing the stairs a few extra times to get your heart rate up. Clean out your bedroom closet, then head downstairs to clean the kitchen and then go back upstairs to clean the bathroom.
Vacuum lunges: While you're getting your carpets clean, take the opportunity to strengthen your legs! Whenever you take a step forward, turn it into a lunge. Keep form in mind here: keep your back straight and don't let your knees go past your toes as you step forward.
Swap in a squat: Whether you're unloading the dishwasher, picking up a laundry basket or grabbing toys from the floor, perform a squat instead of bending at the waist. Not only will this add a healthy challenge to a basic task, but it will also protect your back from injury. Remember to keep feet hip-width apart and your core muscles tight.
Creative bicep curls: You're sure to be toting things around while doing your spring cleaning, so make the most of it. Whether you're taking out the trash or carrying around your caddy of cleaning supplies, do a few bicep curls with the items in hand.
Work your shoulders while scrubbing: Reaching up to wash windows, dust ceilings, or scrub cabinets is a great way to engage your shoulder and arm muscles. Start using large, circular wiping motions to make it a more involved movement.
Finally, don't forget to have fun and play your favorite music to get you amped up and inspired to move!
Curious about other health, exercise, or pain management tips? Contact the top orthopedic doctors at ProOrtho today. Request an appointment here.