Claudia Kalotay, PA-C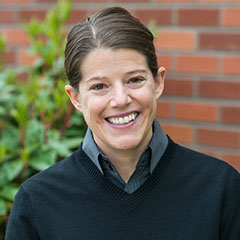 Claudia Kalotay, PA-C has been a member with our group since 2012. She is originally from Mercer Island, Washington and is a graduate of the University of Washington MEDEX PA Program since 2005. She has dedicated her work to orthopedics and is passionate about sharing her expertise with her patients. Following graduation from the PA program, she did intensive training with sub-specialists in the shoulder, hip, knee and hand.
Currently, she is trained to treat the shoulder as she works primarily with Dr. Koo, a fellowship trained shoulder specialist. She plays an important role in Dr. Koo's practice: assisting in surgery, providing patient education, and maintaining post-operative care.  She spends significant time with her patients ensuring that their needs are taken care of timely with full attention to detail. She is heartedly invested in every patient's outcome.
She enjoys family time especially with her nieces and nephews. She is always looking for new adventures in the northwest including hiking, running and tennis.

Education
Physician Assistant Degree – University of Washington School of Medicine Physician Assistant Program (MEDEX), 2005
BS, Molecular and Cell Biology, University of Washington, Seattle, WA- 2000
Associations, Organizations, Society Memberships
Washington State Medical Association (WSMA)
American Medical Association (AMA)
Washington Academy of Physician Assistants (WAPA)
American Academy of Physician Assistants (AAPA)
Board Certification
National Commission on Certification of Physician Assistants (NCCPA) 2005



National Provider Identifier: 1528007069