J. Scott Price, MD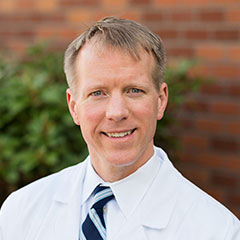 Dr. Price received his medical degree from University of Washington School of Medicine in Seattle, graduating with honors and earning membership in Alpha Omega Alpha, the national medical honor society. He completed his orthopedic surgery residency at Harvard University in Boston, followed by an academic appointment at Massachusetts General Hospital. Dr. Price then completed an advanced surgical fellowship in Orthopaedic Spine Surgery at Rush University Medical Center in Chicago.
He is a member of the North American Spine Society, American Academy of Orthopaedic Surgeons, and American Medical Association.
Dr. Price grew up locally, graduating from Juanita High School, and attending the University of Washington where he received a chemical engineering degree. He enjoys skiing and marathon running throughout the United States. Dr. Price has traveled to both China and Lithuania on medical missions and has an active interest in overseas medicine. His interests also include outcomes research. Dr. Price practices out of the Kirkland and Monroe offices.
Education
Medical Degree – University of Washington Medical School, Seattle, WA
Orthopedic Surgery Residency
Harvard University, Boston, MA
Fellowship – Orthopedic Spine Surgery Fellow, Rush University Medical Center, Chicago, IL
Fellowship – Orthopedic Surgery Research Fellow, Harvard Orthopedic Biomechanics Laboratory, Boston, MA
Focus
Cervical Spine Disorders
Thoracolumbar Spine Disorders
Sacroiliac (SI) Joint Disorders & Minimally Invasive SI Joint Fusions
Minimally Invasive Spine Surgery
Scoliosis and Pediatric Spine Conditions
Associations, Organizations, Society Memberships
American Academy of Orthopedic Surgeons
North American Spine Society
American Medical Association
Academic Appointment, Massachusetts General Hospital, Boston, MA

National Provider Identifier: 1083673834