Bicep Tendon Disorders
The biceps muscle has two origins at the shoulder:
The short head of the biceps – Inserts on the coracoid process of the scapula, which is outside the shoulder joint. It is almost never a source of shoulder pain.
The long head of the biceps – Inserts in the shoulder joint at the top of the shoulder socket (glenoid) and labrum.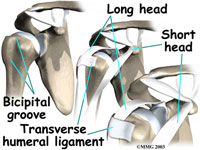 The long head of the biceps tendon is in close proximity to the rotator cuff tendons and is frequently affected in rotator cuff disorders. It is a common source of shoulder pain. Biceps pain can occur from tendinitis (inflammation of the tendon in the bicipital groove) or tendon tears.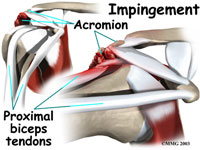 Biceps tendon pain can often be treated nonoperatively with physical therapy and anti-inflammatory medications. If nonoperative treatment is unsuccessful, arthroscopic treatment may be considered. The biceps tendon can either be released from its insertion (tenotomy) or released and secured in a new location on the humerus bone (tenodesis). These procedures can be done on an outpatient basis.