ACL Surgery
The anterior cruciate ligament (ACL) is one of the four major ligaments of the knee. Twisting or pivoting movements are what cause the ACL to strain or tear.
Ligaments are strong, dense structures made of connective tissues that help stabilize a joint. The ACL connects the femur to the tibia and helps provide stability to the knee and minimize stress across the knee joint.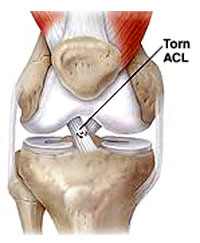 ACL tears occur in athletes participating in cutting and pivoting sports such as basketball, football, soccer, and skiing. The athlete typically feels a "pop" or a tearing sensation and experiences swelling within six hours of the injury. The most common injury associated with ACL tears is a meniscus tear. It is well recognized that there is an increased incidence of ACL tears in female athletes.
ACL strains can sometimes be treated with physical therapy and muscle strengthening, however, most complete tears require surgery in active patients. Modern ACL surgery involves completely removing the torn ligament and reconstructing the torn ACL using a minimally invasive arthroscopic technique. The most common grafts used to reconstruct a torn ACL are the patella tendon, hamstring tendons, or cadaver tissue (allograft). Each graft offers specific advantages and disadvantages, so it is important to understand the differences.
Patellar Tendon Graft
The patellar tendon is a flat, broad tendon with bone attached to both ends. The central third of the tendon can be used along with bone plugs from the patella and tibia for reconstruction of the anterior cruciate ligament (ACL).
This graft has a very long and successful track record. It has been considered the "gold standard" for ACL reconstruction. The advantages of this graft include excellent strength and stiffness, and ability to obtain early bone-to-bone healing of the graft due to the presence of bone plugs on each end of the graft. The bone plugs heal quickly to the surrounding bone resulting in rapid incorporation of the graft.
Patellar tendon autograft has the best long-term results in terms of stability and has been shown to have a mean strength that is approximately 168% of the normal ACL. It has been associated with anterior knee discomfort in some patients.
Hamstring Graft
The hamstring muscles are located in the back of the thigh and their function is to bend or flex the knee. The hamstring tendons connect these muscles to bone. Hamstring tendon grafts have evolved over time and have proven to provide good stability for anterior cruciate ligament (ACL) reconstruction. Typically two hamstring tendons (gracilis and semitendinosus) are used to create a four-bundled graft.
The advantages of this graft include less anterior knee pain and less postoperative stiffness. This graft has been associated with long-term laxity and hamstring weakness. The size of the graft varies from person to person depending on their anatomy.
Allograft
Allograft tissue is graft material that is taken from a deceased person. The graft is typically sterilized with radiation and is stored as frozen tissue in a tissue bank. This tissue is used to reconstruct the anterior cruciate ligament (ACL) using the same techniques used for autograft reconstruction.
Commonly used allograft tissue include patellar tendon allograft, achilles tendon allograft, and hamstring allograft. Allografts have been shown to provide good stability for ACL reconstruction. They are often used in multi-ligamentous injuries (multiple ligament injuries), revision ACL surgeries, and patients looking for a quicker recovery or less donor site pain.
Concerns with allograft have included laxity and disease transmission (which is extremely rare). Extensive testing is done on all allografts to minimize this risk of disease transmission. No tissue matching is required for allograft ACL reconstruction. The risk of failure (re-tearing of the ACL) is higher with allograft than with autograft tissue, especially in young active patients.