Shoulder

If you're looking for the best shoulder doctors in Seattle to receive a specialized shoulder assessment, or simply learn more about shoulder conditions, schedule an appointment with our top Seattle orthopedic doctors. Shoulder injuries are best managed in a dedicated setting where advanced techniques can be chosen according to each patient's specific needs.
Our physicians are experts in addressing:
Common Shoulder Problems
Most shoulder injuries involve inflammation to the rotator cuff tendons, including tears and tendinitis. Rotator cuff tears are so prevalent that a significant portion of people who don't even experience shoulder pain have them, and this becomes more likely with age. Another primary culprit of shoulder pain is arthritis. The most common types of arthritis are osteoarthritis, post-traumatic arthritis, and rheumatoid arthritis. The shoulder joint is also the most frequently dislocated joint in the body due its wide range of movement, and it's common for shoulder dislocation to repeatedly occur. Other typical shoulder problems include impingement, labral tears, biceps tendon injuries, instability, or fracture.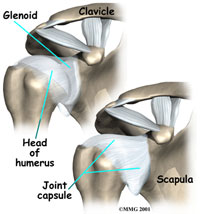 Anatomy of the Shoulder
As the complex intersection of muscles, bones, cartilage, tendons, and ligaments, the shoulder is actually a collection of numerous joints. Three bones are held together by connective soft tissue at the shoulder – the collarbone (clavicle), upper arm (humerus), and shoulder blade (scapula). The head of the humerus upper arm bone meets at the rounded shoulder socket (glenoid labrum) in your scapula shoulder blade to form the glenohumeral joint (shoulder joint). This joint allows the shoulder its back and forth range of motion. At the highest point of the shoulder, a piece of bone called the acromion connects with the collarbone to form the AC joint. The bones in the shoulder are connected to four tendons (subscapularis, supraspinatus, infraspinatus, teres minor) at the rotator cuff, which allows the shoulder to rotate and rise.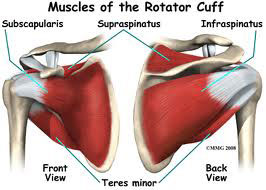 What Does a Healthy Shoulder Look Like?
A healthy shoulder should be able to move back and forth, in circles, and rotate up and down without pain. One way to assess your range of motion is to stand with your back against a wall and try lifting your arms overhead. You should be able to move your shoulder without using your lower back, free of pain and stiffness. Check your shoulders for any muscle weakness, swelling, bruising, or movement limitations.
Treatment Options
To diagnose and treat shoulder injuries, it's common for doctors to utilize X-rays, MRIs, CT scans, and arthroscopy. Treatments vary depending on the type of injury – physical therapy and behavior changes are often the solutions to shoulder pain; however certain injections can be used to address pain as well. Surgery may be required for issues like rotator cuff tears and repeated dislocations – minimally invasive arthroscopic techniques can be used to treat most problems. Shoulder replacement is very effective for relieving arthritis pain and improving function. Sports injuries to the shoulder generally require sports medicine specialty care.
The shoulder plays the pivotal role of connecting your arms to your torso, which is by no means an easy task. While multiple moving parts make the shoulder one of the most mobile joints in the human body, they also make it relatively unstable and highly prone to injury. Disease and injury to specific parts of the shoulder are frequently to blame, but it takes a seasoned professional, like the specialists at ProOrtho, to accurately diagnose the cause of shoulder pain and treat it. Contact us today to learn more.