Hip

Hip injuries require treatment in a specialized setting where advanced techniques can be applied specifically for each patient's needs. If you are seeking orthopedic hip services or treatment from a hip surgeon in Seattle, schedule an appointment at ProOrtho today.
Our physicians are experts in addressing:
Common Hip Problems
Arthritis is the most common source of hip pain, and three types of arthritis are the main cause. Osteoarthritis is age-related wear of the cartilage between bones, and generally settles in after the age of 50. Post-traumatic arthritis follows a hip injury or fracture, and rheumatoid arthritis is an autoimmune disease resulting in inflammation of the cartilage. Hip injuries like labral tears or femoroacetabular impingement (FAI) are also common causes of hip pain, and are becoming more and more prevalent among athletes.
Anatomy of the Hip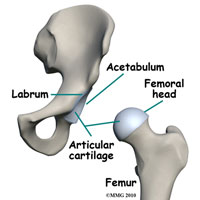 As one of the body's largest joints, the hip is a ball and socket joint comprised of two bones – the upper thigh bone (femoral head), and the socket of the pelvis bone (acetabulum labrum). A connective tissue, articular cartilage, works with another thin tissue called the synovial membrane to keep the hip joint lubricated and moving easily. The hip joint and tissues are also held in place by a collection of ligaments called the hip capsule that helps the socket (acetabulum) grip the ball (femoral head).
 What Does a Healthy Hip Look Like?
A healthy hip should have a full range of motion that allows you to properly walk, exercise, sit, and stretch without experiencing pain. If you're trying to determine whether or not you have a hip problem, it's important to watch for pain in your pelvis or lower back, because these parts of the musculoskeletal system are so closely intertwined. Look out for any redness, swelling, warmth, loss of motion, or tenderness in the area.
Treatment Options
When diagnosing hip problems doctors frequently observe the area, use X-Rays and other imaging services, and gauge your ability to perform certain movements. Aside from surgery, it's common for doctors to prescribe hip conditioning programs and hip rehabilitation exercises to increase the strength and flexibility of the hips and surrounding muscles.
Minimally invasive arthroscopic techniques can also be used to treat hip injuries. Hip replacement surgery is one of the most effective, and commonly used means of relieving hip pain, treating arthritis, increasing range of motion, and ultimately restoring a healthy hip. Improved surgical techniques and the development of new materials have made hip replacement one of the most successful and reliable of all orthopedic procedures.
As a focal point of the musculoskeletal system, the hips are an extremely flexible joint. However, they are also constantly responsible for our bodyweight. We rely on our hips whether we are standing, sitting, walking, or running, so maintaining the hip joint is essential to our overall quality of life. It can be difficult to diagnose the cause of hip pain and treat it, so please seek out the help of experienced hip specialists at ProOrtho. Contact our hip doctors in Seattle today to learn more!