Samuel Koo, MD, MPH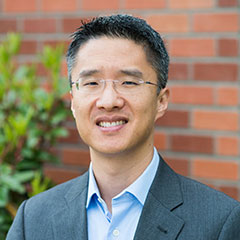 Dr. Samuel Koo, MD, MPH is a board-certified orthopedic physician and surgeon specializing in minimally invasive arthroscopic shoulder surgery, complex open shoulder surgery, trauma and fracture care. Dr. Koo is an authority on treating shoulder problems to help patients resume an active lifestyle as quickly as possible. He trained with Dr. Stephen Burkhart, the world's foremost expert in minimally invasive shoulder surgery. Dr. Koo is licensed to practice medicine and surgery in the state of Washington.
I believe all surgeons must have two essential qualities: integrity and empathy. To me, integrity means treating each patient as if I were caring for my wife or children. Family is important to me.
Integrity means offering the highest quality of care available. I am an expert in arthroscopic (minimally invasive) shoulder surgery, but I will not recommend surgery unless all non-operative solutions have been explored and exhausted. The shoulder is an extremely fascinating joint with lots of moving parts. As such, injuries are common and often complex. Over the last few years, there have been dramatic improvements in the way we treat shoulder pathology. We are now able to perform most shoulder surgeries using arthroscopic techniques (small incisions) that are at least as good, if not better than, the open (larger incisions) procedures of the past.
Having trained with the world's expert in minimally invasive shoulder surgery, the care and technical expertise you will receive is cutting-edge and based on the best available research for various shoulder ailments (rotator cuff tears, labral tears and instability, etc.). I am always actively looking for new ways to improve my surgical/nonsurgical treatment methods to help my patients regain their active lifestyle.
Lastly, surgeons are often not associated with empathy. This is unfortunate, because we are in the ideal position to support patients as they recover from difficult procedures. In my practice, your questions will be heard and answered promptly. By working together we can optimize the patient experience and maximize your health and well-being.
Education
Fellowship – Arthroscopic Shoulder Fellowship with Dr. Stephen Burkhart, San Antonio, TX
Residency – Orthopedic Surgery, Northwestern University, Chicago, IL
Medical School – Northwestern University, Chicago, IL
Masters of Public Health – Northwestern University, Chicago, IL
Undergraduate – B.A. in Philosophy, Wheaton College, Wheaton, IL
Associations, Organizations, Society Memberships
American Academy of Orthopedic Surgeons
Arthroscopy Association of North America
Washington State Medical Association

Board Certification
American Board of Orthopedic Surgery
Focus
Arthroscopic shoulder specialist
Complex open shoulder surgery
Total shoulder replacement
Reverse total shoulder replacement
Advanced arthroscopic shoulder surgery
Large to massive rotator cuff tears
Complex labral tears
Bone graft for chronic instability
Revision arthroscopic shoulder surgery
Trauma and fracture care and surgery
National Provider Identifier: 1467626374