Jonathan Hall, MD, FAAOS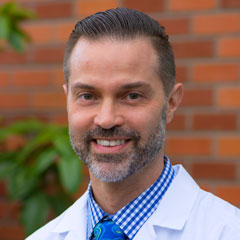 Dr. Jonathan S. Hall, MD, FAAOS is a Board Certified Orthopedic Surgeon sub-specializing in foot and ankle surgery. His advanced training from some of the world's leaders in this field, has been extensive in the operative and non-operative treatment of ankle, hindfoot, midfoot and forefoot disorders. His expertise includes problems related to ankle and foot deformities, leg, ankle and foot fractures, sports injuries to the ankle and foot leading to pain and instability, nerve, muscle and tendon injuries and pain due to arthritis in the ankle and foot.
IRG Sports Injury Update – Plantar Fascilitis Radio Segment:
IRG Sports Injury Update – Ankle Joint Reconstruction:
IRG Sports Injury Update – Ankle Ligament Injuries and Instability:
I was born and raised in Seattle, attending Garfield High School. I then attended Yale University and played college football. I worked for several years in the internet technology industry in both Seattle and Silicon Valley, working for businesses such as Disney, ABC News, ESPN, the NBA and the NFL, followed by starting my own business. I then decided on medical school to continue the family tradition. I am a 4th generation doctor who is fully committed to our family's tradition of caring for the people of the Pacific Northwest. The University of Washington's student health center is named after my great grandfather, Dr. David C. Hall, MD. My wife Mikka and I are parents to our twins, Grayson and McKinley, who take up most of my free time! When I am able to get away I love golfing, reading a good book and playing the occasional pick-up basketball game or flag football game. It is very important to me to remain highly active, which translates well to my goals for every patient: To maintain a level of activity that promotes health and happiness to you and those around you.
Education
Fellowship: Baylor University Medical Center
Orthopedic Residency: University of Vermont / Fletcher Allen Health Care
Medical School: University of Vermont College of Medicine
Undergraduate: Yale University
Associations, Organizations, Society Memberships
American Academy of Orthopaedic Surgeons
American Orthopaedic Foot & Ankle Society
Alpha Omega Alpha Honor Medical Society
Focus
Foot and Ankle Trauma Surgery
Arthroscopic Foot and Ankle Surgery
Sports Injuries
Foot and Ankle Reconstruction (Fusion and Joint Replacement)
Deformity Correction
Bunions and Hammertoes
Ligament and Tendon Repair and Reconstruction
Non-operative Treatments
Cartilage regenerative treatments
Board Certification
American Board of Orthopaedic Surgeons – Foot & Ankle Orthopedics, General Orthopedics
National Provider Identifier: 1548431158