Daniel Nelson, MD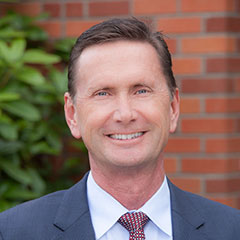 Dr. Nelson grew up in the Puget Sound area and was an honors and Phi Beta Kappa graduate of the University of Washington. He went to medical school at the University of Southern California and completed his internship and residency in anesthesiology at USC-L.A. County Hospital Medical Center where he was elected chief resident. He stayed on after residency for training as a Pain Medicine Fellow and started the Pain Management program at Desert Hospital in Palm Springs, California.
After returning to the Pacific Northwest, Dr. Nelson joined the Evergreen Hospital medical staff and started the Pain Medicine department there as well as establishing one of the first full spectrum independent pain medicine clinics in the area. He is a founding member and Director-at-Large of the Washington Society of Interventional Pain Physicians. On multiple occasions, he has been invited to be a guest lecturer at the University of Washington pain medicine fellowship program and has been actively involved in the teaching of pain fellows, medical students and physician assistants. He has also served as a consultant and speaker to a variety of organizations. Tune in to hear Dr. Nelson on his radio segment, "Conquering Your Pain" every Saturday from 11 a.m. to noon on KTTH 770AM.
In his off time, Dr. Nelson enjoys hiking, biking, golfing, skiing and mountain climbing. He is active in Climb for Captives and Rescue Freedom International, an organization working on behalf of victims of human trafficking.
Philosophy: More than 90 million people in the U.S. are affected by chronic, persistent, or recurring pain. We are also in the midst of what has been described as the "opioid prescribing national crisis", yet it can be challenging for many patients to find any meaningful pain relief.
We employ a rational evidence-based approach to chronic pain using a comprehensive interventional approach which starts with a consultation and ordering medically necessary testing, referrals to specialists, and coordinating physical and manual therapy as well as psychological testing or counseling, if needed. If appropriate, we will initiate an interventional plan that will employ image guided nerve blocks or injections for diagnostic and/or therapeutic purposes. In some cases we may recommend procedures and technologies such as radiofrequency ablation of pain generators or an implantable device, but only after noninvasive options have been exhausted. Other issues may need to be addressed including weight loss or gain, depression, anxiety, and sleep disturbances.
We are committed to a compassionate approach towards alleviating pain, restoring health and improving the quality of life for our patients.
Medical Focus: Chronic neck and low back pain, joint pain, chronic post-surgical pain, occipital and cervicogenic headache, cancer pain, refractory arthritis pain. Complex regional pain syndrome (aka Reflex Sympathetic Dystrophy) Failed back surgery syndrome/post-laminectomy syndrome. Shingles pain and post herpetic neuralgia. Chronic abdominal and pelvic pain.
Specializations: Diagnostic and therapeutic injections under fluoroscopy and ultrasound of the spine and the musculoskeletal system. Radiofrequency ablation procedures. Patient screening, trialing, and implantation of implantable pain medical devices including spinal cord stimulators and implantable spinal pain pumps. Coordination of multidisciplinary pain management care including referral to consultants and physical/manual therapy as well ordering appropriate tests and imaging including MRI, CT and x-rays. Interventional approaches to chronic headache, abdominal/pelvic pain, arthritis, and cancer pain. Vertebroplasty/kyphoplasty treatment of non-operative spinal compression fractures. Stem cell/PRP injections of inoperable knee, hip and shoulder pain.
IRG Sports Injury Update – Pain Management Radio Segment:
IRG Sports Injury Update – Injection Radio Segment:
Education
Internship and residency/fellowship USC-LAC Medical Center
M.D. Universty of Southern California Keck School of Medicine
B.S., University of Washington,
Associations, Organizations, Society Memberships
King County Medical Association,
Washington State Medical Association
Washington (and American) Society of Interventional Pain Physicians
North American Neuromodulation Society
Board Certification
American Board of Anesthesiology with added qualifications in Pain Medicine




National Provider Identifier: 1205878469