Rotator Cuff Tears
Rotator cuff injuries are very common. Between 1998 and 2004, over 5 million physician visits were attributed to rotator cuff problems.
Rotator cuff disease encompasses a spectrum of disorders including rotator cuff tendinitis, impingement, subacromial bursitis, and rotator cuff tears.
The rotator cuff is made up of four tendons (subscapularis, supraspinatus, infraspinatus, and teres minor) that work together to hold the humeral head (the ball part of the joint) in the shoulder socket to allow smooth motion. When the rotator cuff tears, weakness and pain can occur.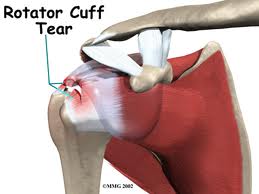 Rotator cuff disease is correlated with age. Up to half of people over the age of 70 have a rotator cuff tear, whereas rotator cuff tears in people under age 40 are very rare and are usually due to repetitive injury (as in overhead athletes) or result from acute trauma. Over time, especially with a large rotator cuff tear that is not repaired, a certain type of arthritis can occur.
Partial rotator cuff tears can sometimes be treated with rest, anti-inflammatory medications, and physical therapy. Full thickness (complete) rotator cuff tears usually do not heal on their own. When pain and weakness persist a rotator cuff repair can be performed. The goal of rotator cuff repair is to improve pain and function. Rotator cuff tears can now be treated arthroscopically, which allows for a quicker recovery and less postoperative pain.