Jamie Antoine, MD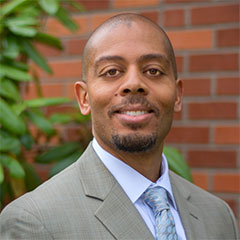 Jamie Antoine, MD is a fellowship-trained board certified orthopedic surgeon specializing in sports medicine/arthroscopic surgery, and treating a wide variety of musculoskeletal problems.
Dr. Antoine received his medical degree from Albany Medical College, graduating magna cum laude, then went on to complete his surgical internship and orthopedic surgery residency at the University of Washington. Dr. Antoine also completed a sports medicine fellowship at the Palo Alto Medical Clinic, where he trained under fellowship director, Dr. Warren King, head orthopedic surgeon for the Oakland Raiders.
Upon completing his training, Dr. Antoine began his practice at Group Health/Kaiser Permanente in Seattle, where he served as the Chief of Orthopedic Surgery for the Seattle campus for six years.
Drawn to orthopedic medicine because of his interest in the relationship between form and function as it relates to the body, Dr. Antoine appreciates that his role as an orthopedic surgeon allows him to help others in a meaningful way.
Dr. Antoine currently serves as Orthopedic Consultant for the Everett Silvertips of the Western Hockey League. He is also the volunteer Team Physician for North Creek High School athletics and Medical Director of the Seattle Pickleball Classic Tournament.
In his free time, Dr. Antoine enjoys spending time with his family, exercising, participating in sports, and taking up new hobbies such as playing musical instruments.
IRG Sports Injury Update – Patellar Tendon Radio Segment:
For me, the best part of being a physician is the privilege of earning the trust of my patients, and helping them through what may be a difficult time in their lives. I chose to practice orthopedic medicine based on the opportunity to treat patients the way I would want to be treated. I believe in a team approach to patient care, with my patients playing an important and active role in their own care. I strive to communicate effectively, so that my patients and I have similar outcomes and goals in mind. Then we can make treatment decisions based on the best scientific evidence available.
Education
Fellowship – Sports Medicine Fellowship at Palo Alto Medical Clinic in Palo Alto, CA
Orthopedic Residency and Surgical Internship – University of Washington in Seattle, WA
Medical School – Albany Medical College in Albany, NY
Undergraduate – Degree in Biology at Union College in Schenectady, NY
Associations, Organizations, Society Memberships
American Academy of Orthopaedic Surgeons
American Orthopaedic Society for Sports Medicine
Arthroscopy Association of North America
Board Certification
American Board of Orthopaedic Surgery
Focus
Sports Medicine
Minimally Invasive Arthroscopic Surgery (knee, shoulder)
Cartilage Repair Procedures
Fracture Care
Knee-Replacement Surgery
Shoulder Arthritis
Shoulder Replacement

National Provider Identifier: 1114022969