Hip Replacement
Hip replacement is a very effective surgery for relieving pain from arthritis. A total hip replacement consists of replacing both the ball (femoral head) and socket (acetabulum) with metal and plastic components. Surgical techniques have been refined over the last decade leading to a shorter hospitalization, less discomfort and fewer complications.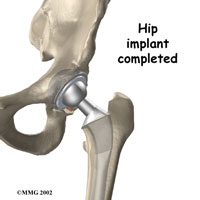 The surgical approach and the size of the incision are critically important elements of hip replacement surgery. The success of this operation is largely related to the surgeon's ability to gain adequate exposure to the arthritic hip joint. Recent enhancements in surgical technique and instrumentation have allowed more limited surgical approaches in certain patients. The use of these instruments, selected implants, and minor modifications of the surgical dissection allow hip replacement to be done through a 4-6 inch incision. The potential benefits of this less invasive technique are significant:
Better cosmetics
Less postoperative pain
Less blood loss
Earlier rehabilitation
Fewer wound complications
It is important, however, to understand that small incisions for hip replacement are a recent development. Precise placement of hip components remains the primary goal of the surgery, and this goal should not be compromised for a smaller incision. Patient factors such as weight, stiff hips, previous hip surgery, and hip deformity can require the standard sized incision. The American College of Rheumatologists has called total joint replacement "The single greatest advancement of arthritis treatment in this century." Improved surgical techniques, development of new materials, and the evolution of detailed preoperative and postoperative protocols have made hip replacement one of the most successful and reliable orthopedic procedures.