James Pritchett, MD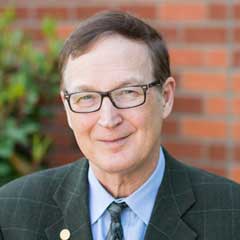 Dr. James W. Pritchett, MD is a board-certified, award-winning orthopedic physician and surgeon specializing in hip, knee and shoulder resurfacing, joint replacement and arthroscopic surgery. In addition, he also does work with Orthopedics International.
Dr. Pritchett is a highly regarded authority in orthopedics, having published more than 100 peer-reviewed manuscripts. He has a special interest in implantology, the study and development of joint prostheses. Several of Dr. Pritchett's design concepts have been incorporated into currently available joint implants. He has been invited to speak about implantology at more than 85 scientific meetings.
Dr. Pritchett was named one of Puget Sound's best doctors and earned an award for outstanding patient care from Swedish Hospital. Dr. Pritchett is licensed to practice medicine and surgery in the state of Washington.
My surgical practice teaches me that technical skill is the mastery of the complex. It takes years and a lot of listening and experience to understand the nuances of joint resurfacing and replacement surgery. Surgical technique is not a commodity that can be bought or sold. I look carefully at my outcomes and publish my results in peer reviewed journals.
Survivorship of a patient and implant is not synonym for true wellness. Resumption of a completely autonomous lifestyle and return to all activities is the goal.
My favorite came from a patient "Though modest in demeanor Dr. Pritchett acts boldly in the interest of his patients". I live this each day and with each patient.
Education
Fellowship – American Academy of Orthopaedic Surgeons, American College of Surgeons Diplomate – National Board of Medical Examiners
Residency – Phoenix Orthopedic Residency, Phoenix, AZ
M.D., University of Washington School of Medicine, Seattle, WA
B.A., University of Washington, Seattle, WA
Associations, Organizations, Society Memberships
Association of Bone and Joint Surgeons (Past President)
Board of Trustees, Clinical Orthopaedics and Related Research
American Association of Orthopaedic Surgeons
North Pacific Orthopaedic Society
Western Orthopaedic Association
American College of Sports Medicine (past member)
Washington State Medical Association
King County Medical Society
University of Washington Medical Alumni Association
Focus
Hip, knee and shoulder resurfacing
Joint replacement
Arthroscopic surgery
Implantology
Current Positions
Clinical Associate Professor, Orthopedics and Sports Medicine, University of Washington
Awards
Puget Sound Best Doctors
Meyerding Award for Fracture Research
Host, Japanese Orthopaedic Association Research Fellow
Letter of Commendation American Academy of Pediatrics
Recipient National Institute of Health Research Grant
Outstanding Physician Award for Patient Care – Swedish Hospital

National Provider Identifier: 1265421382