Neil Roberts, MD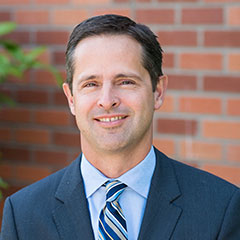 Dr. Neil E. Roberts is a board-certified orthopedic physician and surgeon focused on keeping his patients healthy and active. Dr. Roberts specializes in arthroscopic surgery, sports medicine, trauma and fractures, and athletic injuries to the Shoulder, Elbow, Knee, foot and ankle.
In addition to treating patients at ProOrtho, Dr. Roberts also serves as the team physician for the US Soccer Women's National Teams and for Northwest University in Kirkland, WA. He is licensed to practice medicine and surgery in the state of Washington.
IRG Sports Injury Update – Quad Tendon Injuries Radio Segment:
I enjoy working with athletes and non-athletes and I focus on active people of all ages. I'm dedicated to helping each of my patients gain maximum function and physical potential through individualized patient education and cutting-edge surgical and non-surgical treatment of musculoskeletal conditions.
Competitive athletes, whether at the high school level or the professional level, face different challenges when they are injured. I provide treatment directed at allowing athletes to return to their sports safely and rapidly.
Education
Fellowship – Sports Medicine, and Foot and Ankle, West Coast Center for Orthopedic Surgery and Sports Medicine, Manhattan Beach, CA
Residency – Orthopedic Surgery, San Francisco Orthopedic Residency Program, San Francisco, CA; General Surgery, Swedish Hospital Medical Center, Seattle, WA
M.D., University of Washington School of Medicine, Seattle, WA
B.A., Business Administration and Accounting, University of Washington, Seattle, WA
Associations, Organizations, Society Memberships
American Academy of Orthopaedic Surgeons
American College of Surgeons Candidate Group
American Medical Association
American Orthopedic Foot and Ankle Society
National Provider Identifier: 1972549129