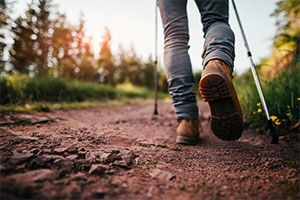 Hiking season is right around the corner and many Pacific Northwesterners are eager to get on the mountain. After being huddled inside all winter, it can be easy to forget just how dangerous early season hiking can be if you aren't cautious. Whether it's your first spring hike or your 100th, it's always a good idea to brush up on the important safety guidelines below before you head out. 
Do Your Research. Variable outdoor conditions in the spring make researching routes and checking the weather even more crucial than it is in the summer. Early in the year, some trails can still have a significant amount of snow. If you're not ready to hike on snow, save higher elevation hiking for later in the summer.
Get Equipped. Being properly equipped can make or break your hiking experience. In the spring, a sunny day can turn wet and windy fast, so layer up. Sturdy, waterproof hiking boots will keep your feet dry and ankles secure while trekking poles will help keep you balanced. If you plan on going up or across steep snow, bring an ice ax. Remember to restock and pack your first aid kit and don't skimp on food and water. 
Dust off Your Navigation Skills. A trail covered in patchy snow makes getting lost an easy task, even on established routes. At the very least, bring a trail map, but if you really want to be prepared, bring a compass or GPS device. Consider taking a navigation course or practicing your map and compass skills in less-challenging terrain before setting out on snow-covered trails.
Get an Early Start. Springtime hiking means less daylight and possibly wet or snowy conditions. Starting your hike early means you'll feel less rushed, which translates to safer hiking. It's much easier to get lost, or trip and fall when you're in a hurry to get back to your car before dark, especially if you're trekking through mud or snow. 
Be Ready to Turn Around. As much as you research and prepare, there are bound to be times when early season conditions throw you a curveball. Avoid an injury by calling it quits when you're clearly out of your element.
Do you have questions about staying active safely? Give our Eastside orthopedic clinic a call at 425.823.4000. Our Eastside orthopedic doctors offer the widest spectrum of surgical and non-surgical options paired with the most advanced technologies available. We specialize in sports injuries, foot pain, hip replacement and more!