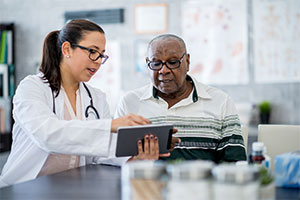 What is Orthobiologics?
Orthobiologics is a groundbreaking, continuously evolving field that allows physicians more solutions for helping repair injuries to the musculoskeletal system that may not be treatable through conventional methods or to augment healing and rehabilitation after surgical treatments.
Orthobiologic therapies harness cells and proteins naturally found in human biology to help support efficient regrowth of musculoskeletal tissues, including cartilage, bone, tendons and ligaments.
When Should I Consider Orthobiologics?
When surgery is not your best (or first) choice to heal bone and tissue, you may want to consider orthobiologic treatments like PRP (platelet-rich plasma) injections – a patented process in which a portion of your blood with a high platelet concentration is drawn then reinjected to promote the healing of soft tissue injuries and conditions and a variety of musculoskeletal problems. Orthobiologics may also be  a good option after surgery to promote healing and rehabilitation.
Benefits of Orthobiologics
By utilizing alternative biological technologies when appropriate, our Eastside orthopedic surgeons can address cartilage defects, nonunion of bones and previously irreparable tendon tears. Opting for less-conventional techniques, like PRP, can aid patients suffering from bone, cartilage and soft tissue loss and injury.
Some other key benefits associated with orthobiologic therapies include:
More rapid recovery compared to surgery
Speeds up rehabilitation process after sugery
Minimizes the impact of degenerative disease
Many orthobiologic treatments are covered by insurance
With orthobiologics, ProOrtho is pushing the future of medicine forward in ways that will impact many patients suffering from pain, providing new resolutions for long-lasting health and healing.
Want to learn more orthobiologics? Give our Eastside orthopedic clinic a call at 425.823.4000. Our Eastside orthopedic doctors offer the widest spectrum of surgical and non-surgical options paired with the most advanced technologies available. We specialize in sports injuries, foot pain, hip replacement and more!