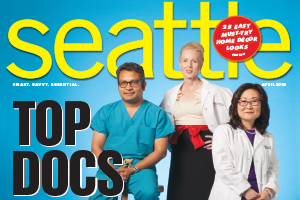 We are proud to announce that two of our orthopedic surgeons, Dr. Koo and Dr. Roh, have been recognized as Seattle Magazine Top Doctors 2018 under Orthopedic Surgery. We applaud their outstanding work and send a big "congratulations" to Dr. Roh and Dr. Koo – we are thrilled to have both of them as part of the ProOrtho team!
As health care becomes increasingly complex and research unlocks more about the human body, we understand how vital it is to have expert physicians to turn to. For many, the key to great health is a great doctor who can help navigate a pathway to a healthy lifestyle. Seattle Magazine, for it's 18th year, has compiled a list of the best doctors in the area, from addiction psychiatrists to vascular surgeons, who have been nominated by their peers. Below, you'll find more information on the publication's process for selecting these world-class doctors. 
From Seattle Magazine: "Seattle magazine's Top Doctors 2018 list was created in collaboration with Connolly Medical Ltd., a health care research and information company founded in 1991 by a former medical college board chairman and president to help guide consumers to America's top doctors and top hospitals.
Castle Connolly's physician-led team of researchers follows a rigorous screening process to select top doctors on both the national and regional levels. Its online nominations process is open to all licensed physicians in America, who are able to nominate physicians in any medical specialty and in any part of the country, as well as indicate whether the nominated physicians are, in their opinion, among the best in their region in their medical specialty or among the best in the nation in their medical specialty. Careful screening of doctors' educational and professional experience is essential before final selection is made among those physicians most highly regarded by their peers.
The result: Castle Connolly identifies the top doctors in America and provides you, the consumer, with detailed information about their education, training and special expertise in its paperback guides, national and regional magazine "Top Doctors" features, and online directories.
This year, again in conjunction with Seattle magazine, Castle Connolly additionally opened up the nomination survey process to all licensed physicians in 66 specialty areas in the region for the period from June 26, 2017 to July 26, 2017. With the support of the magazine and marketing staffs at all the respective hospitals in the Seattle metro area, Castle Connolly garnered 7,843 nominations from more than 602 physicians. This added process enabled Castle Connolly to enhance its existing processes and arrive at the list of Top Doctors for this feature. Based on the nomination process, Castle Connolly had more than 1,400 identified Top Doctors in the area. However, because of space limitations, it further selected an "elite subset" to appear in this issue, based on considerations of numbers of nominations and professional activities.
In addition to Castle Connolly's review of state licensure, as an additional measure, Seattle magazine also verified at press time that all the professionals listed were in good standing with the Washington State Department of Health (DOH). Specifically, this means that the physician has an active, unrestricted license (and if a physician had a disciplinary action taken by the DOH, that doctor has completed all required actions)."
At ProOrtho, we are dedicated to providing the best care possible for our patients. Let our orthopedic doctors help you get back to the healthy, active lifestyle you desire and deserve. At our Eastside orthopedic clinics, we offer the widest spectrum of surgical and non-surgical options paired with the most advanced technologies available. We specialize in pain management, meniscus surgery, hip replacement and more!