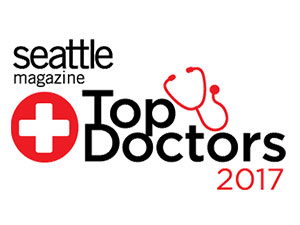 We are thrilled to announce that our very own Dr. Richard Angelo, outstanding orthopedic and sports medicine surgeon, was recently selected by Seattle Magazine as a 2017 Top Doctor in Sports Medicine.
For their extensive 2017 report on the Seattle area's most trusted physicians, Seattle Magazine utilized Castle Connolly Top Doctors to enlist well-known regional doctors to nominate their talented peers. The list of 412 local physicians, in more than 66 specialties, is the result of those recommendations.
We're very proud to have Dr. Richard Angelo on our team of orthopedic surgeons at ProOrtho and know that he is worthy of this accolade. We're also proud to have many of our orthopedic doctors recommended by Castle Connolly Top Doctors including Jeffrey Roh MD, Robin Fuchs MD, Ronald Gregush MD, Samuel Koo MD, MPH, Craig McAllister MD and Jeff Stickney MD.
Struggling with knee or shoulder pain? Our knowledgeable team of orthopedic surgeons, including Dr. Angelo, can help determine what surgical or non-surgical options are best for you. Contact ProOrtho today to return to an active, healthy and pain-free life.