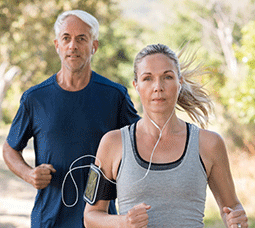 Love it or dread it, we all know running is one of the keys to health and longevity. However, we have good news for those who don't find running as effortless as they'd hope: a new study found non-competitive runners don't peak until they're 50 years old.
Researchers analyzed data from the Chicago, New York and Boston marathons from over 16 years to find when both recreational and competitive runners reached their optimal performance. Elite runners started to slow down at 35 years of age, but the team was surprised to find that recreational runners could continue to improve for another 15 years.
The Washington Post references a gas tank analogy: our tank empties throughout our lives, emptying more rapidly after we turn 35. The intensity with which competitive runners train depletes their tank faster — though this is not the case for recreational runners. According to Gerald Zavorsky, associate professor at Georgia State University's Department of Respiratory Therapy and one of the study's authors, because casual runners don't push themselves as much when they're younger, they have more endurance and opportunity to improve when they're older.
This was unexpected because as we age, muscle mass, bone density, and aerobic capacity diminish. It was generally assumed that this meant our athletic capabilities were similarly impacted. However, given the right training, runners are able to run faster and longer than when they were younger as their physiological limits haven't been pushed.
Of course, intense training isn't feasible for everyone. Not only is it difficult, but work, family and other obligations often force running onto the backburner. The authors of the study instead suggest running smarter, especially as a 40-year-old body wouldn't benefit from the same type of training as a 25-year-old. The best option is interval training twice a week with active recovery, such as stretching and other types of exercise that work your legs, to minimize risk of injury. However, be sure to consult an expert, like one of our Eastside physical therapy specialists or orthopedic physicians, before beginning a new exercise regime.
If you need extra motivation, find a running partner — with the right training and determination, your best running days are still ahead of you.
Struggling with joint pain? Let ProOrtho help you achieve your maximum athletic performance. Our Eastside orthopedic surgeons can help you live a healthy, active life by finding the surgical or nonsurgical option best for you. Contact one of our Eastside orthopedic clinics today.