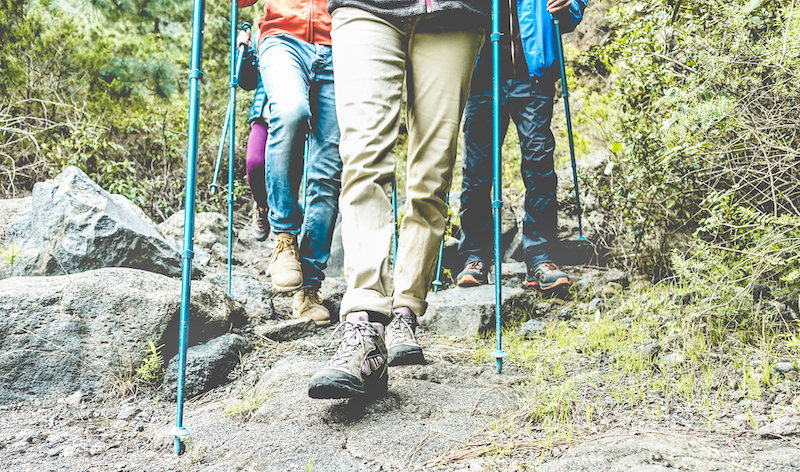 In Seattle, hiking is one of the best ways to get out and explore the beauty of spring. While hiking, one of the most used joints are those in the knee, making knee problems quite common.
Although hiking uphill can be strenuous because of steep inclines and rocky terrain, it's actually downhill hiking that most often damages the knee joint and surrounding cartilage.
Here are several key precautions you can take to prevent injury:
Wear quality hiking shoes or boots. Wear hiking shoes or boots with support and shock-absorbing soles. Look for a comfortable shoe that you can wear without any break-in period. Your shoes should have good traction and a soft, flexible sole that is thick enough to avoid feeling rocks under your feet.
Use a knee brace. For longer or more challenging hikes, wearing a knee brace can provide additional stability. This is especially important if you're recovering from an injury.
Utilize hiking poles. Hiking poles are not just for older hikers. By redistributing load-bearing body weight to the arms and shoulders, hiking poles reduce impact on your knees.
Put a spring in your step. When you begin your descent, do not "brake" too much because it causes the knee to jerk. Let gravity carry your body weight at a rhythmic pace.
Stretch before and after the hike. Stretching before your hike grants you a greater range of motion and flexibility—both are needed to safely navigate trails and rough terrain. Stretching after your hike can help reduce soreness and prevent injury.
Caring for your knees will help ensure that you can enjoy hikes and nature walks for years to come! It's normal to feel some soreness after a hike, but if tenderness or swelling lasts for more than a day or two, consult a doctor.
Curious about other health, exercise, or pain management tips? Contact the top orthopedic doctors at ProOrtho today. Request an appointment here.