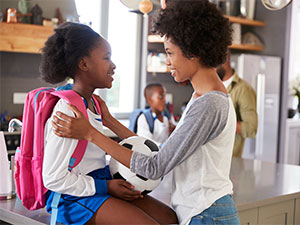 It's that time again! School is back in session and your children are strapping on their backpacks filled with books, supplies, sports gear, lunch, electronic devices and much more. As your children walk to, from and around school with their backpack full of school essentials weighing them down, back pain and injuries become a reality.

Fortunately, there are some simple and quick changes that can be made to dramatically reduce the risk of back pain due to heavy backpacks:
Find the Perfect Fit. When back-to-school shopping with your kids this year, it's important to make sure their backpacks fit correctly. A backpack that fits correctly should rest squarely on your child's back about two to three inches below their shoulders and hang no more than two to three inches below the waist.
Try the Two-Strap Rule. Even though side-strap bags and rolling backpacks have become increasingly popular, they should be avoided. Single-strap bags distribute the weight of their contents unevenly across a child's body, while rolling backpacks require lifting and carrying up flights of stairs that your child's school may have. Opt for a backpack with two wide, well-padded straps so your child can comfortably bear the weight of their school supplies.
Watch the Weight. Speaking of the weight of school supplies, no child should be lugging around more than 10 to 15 percent of their body weight. If your child's backpack exceeds this capacity, try rearranging how the bag is packed, with the heaviest items loaded first and placed closest to the body. This alone can make a big difference.
Search for Structure.Many quality-made backpacks come with a padded back and a plastic frame sheet, which helps add structure and rigidity. This can further help distribute the weight of your child's supplies.
Check for Correct Use. Most backpack-related injuries can be attributed to incorrect use including injuries from tripping over backpacks, kids swinging their bags around and improper lifting of heavy backpacks. Talk to your child about dos and don'ts of basic backpack use.
When a child has the right style of backpack that fits correctly and is not overloaded with heavy materials, we can prevent unwanted stress or pressure to their shoulders, neck and back. So many of the postural problems and pain that shows up later in life starts as bad habits when we are children. Helping your child implement the tips above now can ensure a long, pain-free life for them.

If your child is suffering from back pain, or you have any questions and want more tips regarding proper backpack choice, give the Eastside orthopedic surgeons at ProOrtho a call: 425.823.4000. We offer the widest spectrum of surgical and non-surgical options paired with the most advanced technologies and pain management treatments available. We specialize in meniscus surgery, hip replacements, shoulder pain and more!