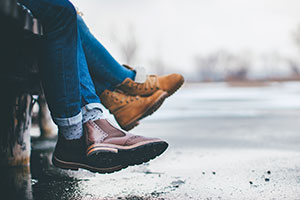 Whether you're trudging through snow, strolling around the city, or splashing through puddles and mud, winter weather brings a unique set of challenges for your feet and ankles. When it comes to orthopedic foot health, feet are your foundation, stabilizing the entire body so you can do the things you enjoy and perform daily tasks. Chilly conditions and winter activities make it especially important to pay attention to your feet to avoid complications. Read on to learn how to treat your feet this winter, and contact our orthopedic surgeons in Seattle to learn more about foot health, sports medicine, pain management, and more.
Choose Winter Footwear
Boots and waterproof shoes are the ideal winter footwear because they provide a substantial layer between your feet and the rain or snow. However, winter gear can sometimes keep your feet too warm, causing them to get sweaty. Rather than wearing double socks, try moisture-wicking socks to allow your feet to breathe while simultaneously preventing issues that come with wet feet, like athlete's foot or blisters. Orthotics are also a very helpful support accessory, going in the sole of your shoes, helping to stabilize your foot's movement regardless of footwear type.
Warmup and Stretch
When temperatures drop, cold skin leads to decreased blood flow, causing your muscles to become more stiff than usual. To keep your feet and ankles warm and limber, it becomes even more crucial in the winter to stretch and warm up your muscles. Focus on stretching your Achilles tendons, calves, ankles, and toes. For your feet, try toe raises, points, and curls, or roll a tennis ball under your foot to address the arches and plantar fascia.
Exercise Accordingly
Winter sports are both thrilling and chilling – they simply require a bit more preparation than those during other times of the year. Skiing, snowboarding, ice skating, and even running in the cold all increase the risk of fracture or discomfort due to uneven surfaces, ice, and twisting motions. When you glide out on the ice or hit the slopes, it's key that your skates or skiing and snowboarding boots fit properly; you should have wiggle room for your toes, but the top of your foot, ball, and ankle should all be held firmly in place. When running, keep your foot's strike pattern the same while shortening your stride to lower your chances of slipping and falling.
Get a Massage
While taking precautions can make a huge difference in winter, it's just as important to treat yourself during the holidays. Winter can leave skin dry and cracked, and exacerbate aches and pains. A quality massage is a great way to reinvigorate your feet and ankles, and your entire musculoskeletal system for that matter. Foot massage helps relieve pain and swelling in your muscles, tendons, and ligaments while moisturizing your skin, improving blood circulation, and increasing your flexibility to help prevent injury.
Unsure about your foot and ankle health? Check for foot pain, ankle pain, circulation, flexibility, and damage to your skin. Self-evaluation can help you get an idea of the type of pain and what's causing your foot and ankle conditions, but it's no substitute for a visit with a foot and ankle doctor. Contact the top orthopedic surgeons in Seattle at ProOrtho for more information.