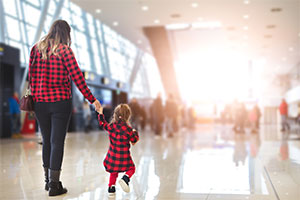 Looking for information on how to keep a healthy and active lifestyle while traveling? The orthopedic doctors at ProOrtho specialize in pain management, sports medicine, orthopedic health advice, and more. Contact us today to learn more.
The holidays are a time of travel, whether you're visiting family and friends, getting in some vacation time, or wrapping up the busy year with a work trip. If you're trying to stay healthy during the holiday season, travel may have other plans for you – it can be difficult to stay consistent and keep progressing toward your fitness goals while on the road.
Travel alters your routine, makes exercise less convenient, and can be tough on your joints. It also usually means you'll be eating out more often, and surrounded by seasonal indulgences wherever you go. Nevertheless, it is possible to keep on track with your fitness and make the most of your trip. Review these holiday travel health tips before you hit the road:
Stay Moving & Avoid Sitting
This may sound counterintuitive when so much travel time is spent waiting, but when in transit try to avoid being still whenever possible. There are certainly times that we stay stationary at the airport, on the plane, or in trains and buses when we don't necessarily need to. Avoid escalators and moving walkways, and opt to walk between gates instead. Stroll about the terminal while waiting for your plane, and reserve aisle seats in advance so you can conveniently get up to walk or stretch. Challenge yourself to stand whenever possible, but if taking a seat is necessary, there are things you can do! Find pain relief and keep your blood flowing when seated by doing light stretches like neck rolls, back twists, ankle and wrist rolls, heel raises, and shoulder flexors.
Indulge Wisely
One of the best parts of holiday travel are the once-a-year recipes and local delicacies. Rather than avoiding these seasonal foods all together, satisfy your cravings with healthy alternatives. Choose grilled instead of fried, or get veggies as a side. Go ahead and order those tasty dishes, but try to share meals whenever possible to help with portion control. If you're not sharing, save part of your meal for later. Eat fruits and veggies whenever possible, and request sauces on the side to avoid hidden calories. Most importantly, choose water! Staying hydrated is harder when traveling, but it's even more important to help curb your appetite and keep you away from the empty calories and sugar of sweetened drinks.
Sneak in Fitness
You may not always have time or means for a heavy workout, but it's possible to weave physical activity into your trip plans. If you're working, make walking phone calls or schedule walking meetings. When you're with family, suggest active group activities like family strolls in the park or shopping mall. If you're on vacation, avoid staying in your hotel room and go sightseeing or exploring instead. Seek out walking tours, hiking, or lessons in a new sport or exercise to experience where you are.
Bodyweight Exercises
Using your own bodyweight is quick, efficient, and can be done just about anywhere. Squats, lunges, pushups, planks, sit-ups, mountain-climbers, and bridges are all movements that utilize your entire body, strengthening targeted muscle groups while working your core. When you don't have anywhere to exercise, bodyweight workouts are your best friend.
Prepare for Sleep
Sleep is essential for pain treatment and injury prevention because it allows your body to recover. Different beds and time zones can compromise your sleep, which is a surefire way to sabotage your health. Adjust your sleep schedule before you even leave to avoid jet lag, and bring a traveling pillow, ear plugs, or anything else that helps you get a quality night's rest.
A healthy lifestyle while traveling during the holidays is a matter of preparation. By using these tips and keeping your health top of mind, you'll be able to keep on track through the season. We encourage you to contact our orthopedic clinic, ProOrtho, and bring your questions to the top orthopedic surgeons in Seattle and the Eastside. We wish you safe travels and a happy holiday!