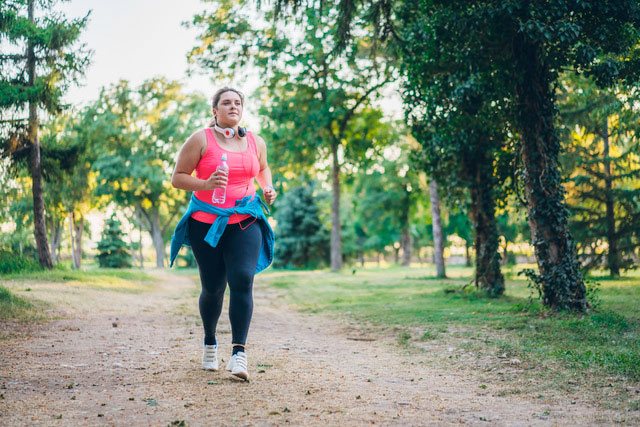 Summer running season is here! That means longer daylight hours, warmer temperatures and fewer layers. If you're training for a marathon or just running to stay active, managing the sun and heat should be part of your routine.
Maintain a safe body temperature
Give your body at least a couple of weeks to get used to summer weather and gradually increase the intensity and length of your runs, even if you've been running all spring. Avoid the hottest (and most dangerous) part of the day, usually between 10am-4pm.
Hydrate
Staying well-hydrated can prevent symptoms like stomach cramps, lightheadedness, and headaches. Drink at least 8-12 ounces of water 30 minutes before any exercise to keep your perspiration system functioning. Try to drink another 8-12 ounces for every 20 minutes of exercising. For longer runs, carry water or plan a course with drinking fountains along the way.
Wear the right clothes
Wearing the right clothing lets your skin breathe, pulling moisture away from your body, allowing it to evaporate much faster. Look for light colored, lightweight, loose-fitting clothing. Choose non-cotton material to reflect the sun and heat.
If you're especially sensitive to the sun, consider wearing a lightweight hat to protect your head and face. Pick up a hat that lets air in through the fabric to further cool you down.
Never forget sunscreen
Look for products with an SPF of 40 or more that provide broad-spectrum protection, protecting you from ultraviolet radiation, UVA and UVB. Apply it at least 15 minutes before going outside.
Change up your pace
In the heat, alter your long runs to include walking intervals. Stop running every 4-5 minutes and walk for 1-2 minutes to keep your core temperature in check. This will maximize your running quality and reduce the chances of developing heat stress.
Know the symptoms
Know the symptoms of both heat exhaustion and heat stroke. If you do experience these symptoms, stop running immediately, find shade and rehydrate.
Heat Exhaustion: heavy sweating, rapid breathing, fast/weak pulse, headache, fatigue, and nausea.
Heat Stroke: rapid pulse, headache, dizziness, disorientation, nausea/vomiting, body-core temperature above 104 degrees.
Curious about other health, exercise, or pain management tips? Contact the top orthopedic doctors at ProOrtho today. Request an appointment here.