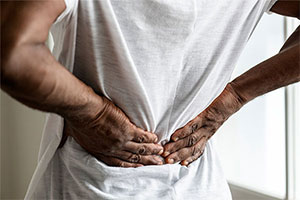 There are a number of options available when it comes to treating back pain, however, not every treatment will be effective for all patients. When other pain treatments are ineffective, spinal cord stimulators may be the solution. If you or a loved one experience back pain, this revolutionary pain management solution can provide relief and significantly improve overall quality of life. We invite you to RSVP for Dr. Nelson's seminar reviewing pain treatment options, including the use of spinal cord stimulators, held on both Saturday, September 29, and Tuesday, October 2.
During these upcoming seminars, Dr. Nelson will team up with former U.S. Army Sergeant Justin Minyard, who has a spinal cord stimulator himself, to discuss how spinal cord stimulators work, their benefits and risks, and for whom they may be particularly useful. This type of treatment is highly personalized, and progress is monitored and adjusted to best meet the needs of the patient. Please join in the dialogue to learn more about the most cutting-edge pain treatment options – family and friends are welcome to attend, and light refreshments will be available as well.
As our in-house orthobiologics expert, Dr. Nelson is committed to a compassionate approach toward alleviating pain, restoring health, and improving quality of life for his patients. At these educational seminars, Dr. Nelson will answer your questions about spinal cord stimulators and give you the information you need to alleviate your joint, neck, and back pain using the most contemporary methods.
Event Details
Date: Saturday, September 29 and Tuesday, October 2
Time: 5:00 p.m. on September 29, and 6:30 p.m. on October 2
Location: Bellevue Courtyard Marriott, 11010 NE 8th Street in Bellevue, WA 98004
Please RSVP: To secure your spot for these events, please email ProOrthoRSVP@ProlianceSurgeons.com or call 425-216-7088.
Our Eastside orthopedic surgeons offer the widest spectrum of surgical and non-surgical options paired with the most advanced technologies available. We specialize in pain management, back strains and sprains, sports medicine, and more! To schedule an appointment, give our Eastside orthopedic clinic a call at 425.823.4000.