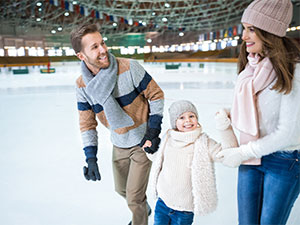 Skiing, sledding and skating, oh my! Keeping your children active in the winter is both important and fun. But before you and your kids hit the slopes this year, read the tips below to help your little ones avoid winter sports injuries.
Sledding Safety
Though it may seem like harmless fun, sledding injuries send thousands of kids to hospital emergency rooms each year. Sledders are most likely to be injured in collisions with objects or people, so take the below safety tips into consideration before sending your kids down the hill.
When hills get covered with snow, they may all look like great locations for sledding, but be very careful when selecting a location for your kids to sled. Choose one that's not too steep and has a long, flat area at the bottom for your children to glide to a stop. Also look out for hills that end near ponds, trees, fences, streets or parking lots.
Always have your children sled during the daytime, when visibility is better. If you do choose to go sledding at night, make sure the hillside is well lit and all potential hazards are visible.
The safest sleds can be steered by their riders and have brakes to slow them down.
Remind your children to keep their arms and legs within the sled at all times.
Skiing and Snowboarding Safety
Both skiing and snowboarding involve moving at very high speeds down steep hills past fellow skiers/boarders and other various obstacles. Falls and collisions are relatively common, regardless of how good a skier or snowboarder your child may be, but the tips below can help prevent a devastating injury.
Make sure your children are in good physical condition before hitting the slopes. Stronger muscles not help kids maintain control and prevent falls.
Consider signing your kids up for lessons with a trained instructor. It's the most effective way to teach them the proper techniques and ensure safety.
Provide your children with the correct, properly fitting equipment. Most importantly, don't forget a helmet.
Help your child know their limits. If they are beginners, have them stick to the milder slopes until they feel comfortable enough to move up to something steeper.
Insist that your kids never venture past the ski resort boundaries. These areas are dangerous and off-limits for a reason.
Ice Skating Safety
Ice skating is a festive, fun way for kids to stay active but with sharp skates and slippery ice, it's easy to see how a fun day on the ice can quickly turn dangerous. Keep your kids safe and happy this winter with these helpful tips.
Never allow your kids to try outdoor skating on ice that hasn't been approved. Ice that looks and seems strong may not be able to hold your child's weight.
Always check for cracks, holes and debris on the ice before sending your kids to skate.
Equip your children with safe, properly fitting skates. Skates should be snug, but not too tight, laced up to the top.
At an ice skating rink, remind your children to skate in the same direction as the rest of the crowd and not to dart across the ice – they could potentially cause a collision if they don't follow the rules.
Want to learn more about helping your children maintain an active, healthy lifestyle this winter? Give our Eastside orthopedic clinic a call at 425.823.4000. Our Eastside orthopedic doctors offer the widest spectrum of surgical and non-surgical options paired with the most advanced technologies available. We specialize in sports injuries, meniscus surgery, shoulder pain and more!