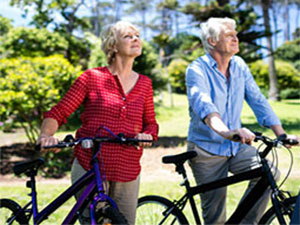 Despite the fact that hip replacement and knee replacement are recognized as the most effective solutions for patients with severe arthritis, postoperative pain and stiffness, long difficult rehabilitation processes persist for both, even with modern implant designs.
At a recent SwiftPath Symposium in San Diego, CA, surgeons compared traditional joint replacement methods to the modern methods utilized in the SwiftPath Program to determine the impact on speed of recovery.
The Symposium focused on issues that matter to patients:
Pain management
Alternatives to narcotics
Minimally invasive surgical techniques
Computer navigation and robotics
Speed of recovery
Dr. Craig McAllister served as moderator for the symposium and pointed out that "joint replacement is a highly successful operation, but postoperative pain and stiffness stand as the single most common cause for patient dissatisfaction. Extensive surgical approaches, bleeding and prolonged hospitalization have likely contributed to the problem—stiffness that naturally leads to months of arduous and painful physical therapy that we simply come to believe is part of the surgery."
Minimally invasive surgical techniques for hip and knee replacement have helped to reduce postoperative pain, stiffness, downtime and the need for narcotics. The SwiftPath Program combines these improvements with a comprehensive and systematic approach to patient engagement, modern pain management, early discharge, and rapid mobilization.
Over the past two years, the SwiftPath Program has been used in thousands of joint replacements performed across the country. Using predictive analytics developed by SwiftPath, patients are assigned to a standard hospital stay, 23-hour stay, or same-day discharge. The Program is so effective that many patients can be discharged directly to home with no use of rehabilitation centers, hotels or other types of recovery suites. There is minimal blood loss, so postoperative labs are no longer required. Patients participate in an online, cyber-secure patient-reported outcome system documenting their daily pain experience, weekly rehabilitation, return to activities and overall patient satisfaction.
What is Outpatient Joint Replacement?
Outpatient surgery is a direct discharge to home. We don't use visiting nursing services. We don't use physical therapy. We don't get labs. We don't discharge to care centers. These are all patients that have had minimally invasive joint replacements relying on an overarching approach to multimodal pain management and non-narcotic analgesics.  IV acetaminophen, anti-inflammatories and joint injections make it possible for patients can be comfortable going home on the day of surgery.
What are the Patients Saying?
"I had my right knee replaced by Dr. McAllister two years ago. Dr. McAllister explained that the Exparel joint injection that he would be using this time would help reduce pain.  I figured it would help a little. The difference was huge! The pain related to my previous knee replacement done without Exparel was so bad. I used narcotics and a walker for at least a month and had a lot of physical therapy. I also stayed in the hospital for two days. It took me two years to get the nerve up to have my second knee replacement.  This time I went home in three hours, took no narcotics and was up and moving very quickly."  – Observations of DL, one of Dr. McAllister's knee replacement patients
Go to Facebook to see what others are saying: https://www.facebook.com/pg/swiftpathprogram/reviews/
Dr. McAllister has utilized the SwiftPath program for well over 1000 patients over the years, and easily over 500 same-day discharges of hip and knee replacements are included in that program.  The SwiftPath Program has been presented at a Congressional Briefing in Washington, DC, major national orthopedic meetings, and numerous regional meetings. With SwiftPath, we hope to improve the outpatient surgery experience for good.