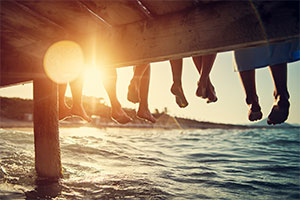 The orthopedic experts at ProOrtho are dedicated to helping you enjoy the summertime safely and free of pain. Our orthopedic doctors in Seattle specialize in sports medicine, pain management, knee pain, and more. Contact ProOrtho today.
Sunshine has arrived, and so have summer activities. While outdoor activity has numerous health benefits, it also means an increase in sports injuries. Whether you're hiking in the mountains or flipping burgers in the backyard, review the summer health program below to prevent or manage your pain so you can make the most of the season.
Enjoy Sunshine Safely
Before your fun in the sun, double check for these common summer health risks:
Dehydration: this happens more frequently in warm weather, so be sure to hydrate throughout the day, and get your hydration from whole foods like fruit and veggies in addition to water.
Faulty Gear: to prevent knee, ankle, foot, and other bone or joint injuries, take the time to get outfitted with the proper gear before you hop into that next pickup game or impromptu adventure.
Exertion: safe exercise is all about moderation. Warm up to gradually transition to exercise, watch for pain during activity, and perform a cool down after you've finished.
Low-Impact Exercises
Explore low-impact exercises to achieve high-impact results without exerting your joints. Take a break in your day to stroll in the sunshine for a mood boost, hit the fairway to work on your golf swing and build your core strength, or go for a swim to sculpt your entire body. Activities like outdoor yoga, biking, and even gardening can improve your flexibility, circulation, strength, and orthopedic health without over-working your body.
Summertime Self-Care
Aside from exercise and safety, the sunny season is an excellent time to treat yourself. Lather on some sunscreen, and get outside to soak up the sunshine! Careful sun exposure can boost your body's Vitamin D levels, which aids with bone health and combats joint inflammation. For added benefit, perform a stretching routine to increase blood flow and range of motion. Stretching can prevent stiffness and muscle exertion to help you avoid injury. It's also a common stress-reliever.
Interested in more summer health tips? At ProOrtho, our orthopedic doctors can provide more information to help you prevent, manage, or treat injury this summer. We provide surgical and non-surgical options, utilizing the most advanced technologies available. Specializing in sports medicine, pain management, and more, we are dedicated to helping you enjoy your summer season and beyond by provding comprehensive, caring, and exceptional orthopedic services.