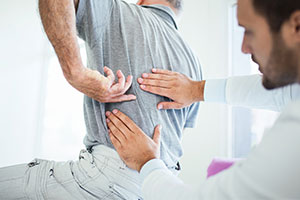 Back pain is one of the most common medical problems people face today. Whether it's a dull, constant ache, or a sudden, sharp twinge, back pain can be debilitating. Have you or someone you love struggled with back pain? You're not alone. We invite you to RSVP for Dr. Nelson's 21st Century Solutions to Back Pain: Innovative Approaches Including Stem Cell Research seminar held on both Saturday, July 21 and Tuesday, July 24.
At these upcoming seminars, Dr. Nelson, our in-house orthobiologics expert, will be delving into the most contemporary, revolutionary, and controversial solutions for back pain. Join in on the discussion to learn more about the continually evolving field of orthobiologics and the modern technologies being used to harness the body's inherent ability to heal and treat injuries.
Dr. Nelson is committed to a compassionate approach toward alleviating pain, restoring health, and improving the quality of life for his patients. At these educational events, Dr. Nelson will answer your questions and give you the information you need to get back to your healthy, active, and pain-free lifestyle.
Event Details
Date: Saturday, July 21 and Tuesday, July 24
Time: 6:00 p.m. – 7:30 p.m.
Location: Bellevue Courtyard Marriott, 11010 NE 8th Street in Bellevue, WA 98004
Please RSVP: To secure your spot for these events, please email ProOrthoRSVP@ProlianceSurgeons.com or call 425-216-7088.
Our Eastside orthopedic surgeons offer the widest spectrum of surgical and non-surgical options paired with the most advanced technologies available. We specialize in pain management, back strains and sprains, hip replacement and more! To schedule an appointment, give our Eastside orthopedic clinic a call at 425.823.4000.