Duong Tran, PA-C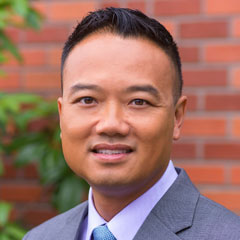 Duong Tran graduated from the University Washington School of Medicine's MEDEX PA program in 2005. He brings thirteen years of experience treating orthopedic conditions at Group Health/Kaiser Permanente in Bellevue, from 2005-2018, where he started the ultrasound program. He has been a teacher for PA students in clinical clerkships and rotation programs for several years, and enjoys sharing his experience to support future physician assistants. Prior to working as a physician assistant, he was a surgical technologist and emergency medical technician.
Duong works primarily with Dr. Pritchett, who is a general orthopedist specializing on hip, knee and shoulder resurfacing, and joint replacement. He was one of the original surgeons who received recognition worldwide for his experience in hip resurfacing, having authored many notable articles.
Duong was also part of a course on ultrasound use in musculoskeletal issues, and has been using ultrasound for the past several years to evaluate orthopedic conditions. He is a strong proponent of ultrasound because it can be performed in the clinic, is radiation-free, and is more cost-effective than other tests. He uses ultrasounds for patients with shoulder, wrist, hip, knee, and ankle conditions, as an alternative to MRI and to help improve injection accuracy to limit patient pain. As a specialist, he invites any ultrasound questions.
Duong immigrated from Vietnam as a young child, growing up in Ballard and North Seattle before moving to Kirkland. He is from a large extended family and highly values family time, spending as much time as possible with his two children by volunteering at their school and coaching in their sports. He attends auctions and contributes to charities which focus on the homelessness, especially for children and those affected by domestic violence.
When he isn't working or spending time with family, Duong enjoys exercising, golf, skiing, boating, hiking, fishing, cooking, local sports, photography/videography, and travel.
"My focus in patient care is communicating well by listening to patient concerns and goals. I will explain my diagnosis and treatment plan in an easily understood manner. Getting to know the patient and making a personalized treatment is important to me. I am interested in your hobbies and career as this is relevant to your treatment. I provide innovative care using ultrasound to evaluate and guide orthopedic conditions (only at the Kirkland location). I initially recommend non-operative treatment and then, only if necessary, operative treatment. I understand that many use the internet for information, and welcome questions for clarification, but caution against accuracy online. I spend time researching your prior health care, imaging, and treatment history before your visit. Any information you can bring to your first visit is always welcomed. I am as concerned as my patients are about the issues surrounding narcotic addiction and I seek ways to control pain without narcotics."
Education
Bachelor of Clinical Health Services 2003-2005, MEDEX Northwest Physician Assistant Program, University of Washington School of Medicine
Bachelor of Arts, History 1993-1997, University of Washington
Associations, Organizations, Society Memberships
Member American Academy of Orthopedic Surgeons (AAOS)
Member American Academy of Physician Assistants (AAPA)
Board Certification
National Commission on Certification of Physician Assistants (NCCPA)
Advanced MSK Ultrasound in Sports Medicine (Sports Medicine Ultrasound Group)
Surgical Technology Certification 1998-1999, Seattle Central Community College
Emergency Medical Technician (EMT) Certification 1994, North Seattle Community College
National Provider Identifier: 1821140054