Clark Laprelle II, PA-C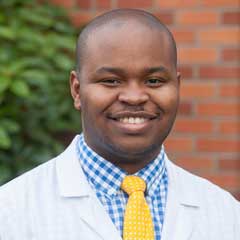 Clark LaPrelle II graduated from Duke University's Physician Assistant program in 2016. Clark's experience prior to Physician Assistant school includes working as a medical technologist and as a surgical nursing assistant. At this time he works predominantly with Dr. Jeffrey Roh and provides care for patients with spine diseases and disorders. Clark loves the beautiful seafood options the Pacific Northwest has to offer, especially the oysters. He also enjoys spending time with his family, staying active, and is a car aficionado.
"I believe that in order for a goal to be accomplished it takes a team effort. With that being said, my goal is to be an integral part of the patients care throughout the duration of their time spent with us. I want to ensure that the patient is comfortable, cognizant, and cooperative in the care of their condition. A quote that resounds with me is, "treat others as you would have them treat you."
Education
Masters of Health Sciences, Duke University School of Medicine, Physician Assistant Program, 2016.
Bachelor of Health Sciences in Medical Laboratory Sciences, University of Kentucky, 2012.
Certification
National Commission on Certification of Physician Assistants (NCCPA)
National Provider Identifier: 1306396338