Camille Clinton, MD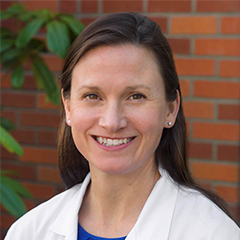 Dr. Clinton is a board certified orthopedic surgeon specializing in sports medicine, knee and shoulder surgery. She completed a fellowship in Sports Medicine and Shoulder surgery at the renowned Hospital for Special Surgery in New York City where she received advanced training in arthroscopic and reconstructive surgery of the knee and shoulder. She also worked with orthopedic surgeons in the Women's Sports Medicine Center at the Hospital for Special Surgery and assisted the team physicians for the WNBA New York Liberty. A previous collegiate athlete, Dr. Clinton has a special interest in women's sports medicine and orthopedics.
I believe all patients should be treated as individuals. While multiple patients may have the same injury or problem each person is unique. In order for a patient to have the best outcome I draw on my knowledge and technical expertise to give them excellent treatment, but also tailor that treatment to their specific goals. Whether my patient is a weekend warrior, competitive athlete or retiree, I work to get them back to their desired activities as quickly and safely as possible.
Many injuries can be treated non-operatively, and I always explore non-operative treatment first when possible. When operative treatment is needed I apply the latest minimally invasive techniques. I attempt to educate my patients so they have a good understanding of their orthopedic problem and then collaborate with them to devise the optimal treatment plan.
A successful surgery is only part of what is required for an excellent outcome. The post-operative recovery and rehabilitation is crucial to the success of most procedures. To this end I believe it is critical to remain supportive and involved in patient care until recovery is complete.
Focus
Sports Medicine
Arthroscopy of shoulder and knee
Shoulder Replacement
Total and Partial Knee Replacement
Education
Fellowship – Sports Medicine/Shoulder Surgery, Hospital For Special Surgery
Residency – Orthopedic Surgery, Georgetown University Hospital
Medical School – Georgetown University
College – University of Notre Dame
Associations, Organizations, Society Memberships, Sports Medicine Certificate of Added Qualification (CAQ)
Arthroscopy Association of North America (AANA)
American Orthopedic Society of Sports Medicine (AOSSM)
American Academy of Orthopedic Surgeons (AAOS)
American Medical Association (AMA)




National Provider Identifier: 1356509475